East Liverpool Chiropractor for Family Wellness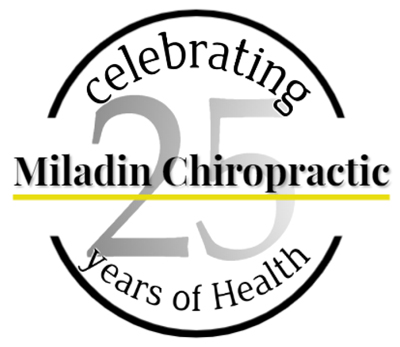 Feel Great at Miladin Chiropractic, Inc.
East Liverpool Chiropractor Dr. Craig Miladin offers his patients customized care options in pain relief, athletic excellence and wellness optimization, with particular emphasis on the unique needs of moms-to-be. At Miladin Chiropractic, Inc., our practice also enjoys working with high school and professional athletes, and those that want to get the most out of their golden years.
"Over two decades of experience have provided us with the research-based tools and expertise to be of service to the members of our community, without regard to age or current state of vitality with chiropractic care.
Our Popular Specialty: Low-force Adjusting
We have a reputation in the community for technologically-advanced adjustment delivered with a precise and gentle touch. Dr. Craig almost exclusively uses a hand-held instrument that contains sensitive sensors that prove immediate feedback to the micro-computer built into the device: The iQ Adjusting Instrument®. What does this mean for you? An accurate adjustment that provides immediate feedback for fast, effective relief.
Our Practice Difference
We pride ourselves on being a referral-based practice. Our office receives accolades for our comfortable care, and we appreciate that most of our patients find us through word-of-mouth.
Prenatal chiropractic care is one of our specialties. Dr. Craig is a certified Webster practitioner, which affords his pregnant patients the opportunity to experience a safe, comfortable and optimal pregnancy. Studies have indicated that those women under Webster care undergo shorter delivery times with less chance of complications. The pregnancy itself is often more enjoyable as well, with a great decrease in unpleasant symptoms.
The techniques we offer require no twisting, popping or cracking of the neck or back. We use technologically advanced instrumentation as our primary method of adjusting, and patients love it!
We offer the required physical examinations to children getting ready to be involved in sports or preparing to head off to camp. Your child does not have to be a patient of our clinic to be eligible for this service.
Our average wait time to receive an adjustment is less than five minutes. And, if you're one of our established patients and find yourself in a pickle where you can't get into the office, Dr. Craig will come to the rescue. He does make house calls to be of assistance where he can.
Discover How We Can Help
We're effective, affordable, transparent and personalized. We'll always treat you like family, as we're just everyday people ourselves just wanting to help others. Read some of our patient testimonials here.
The experienced and loving care at our beautiful location is compassionate, supportive and heart-centered. We want to earn your trust and partner with you in improving your health. Contact us today for a same-day appointment with our Chiropractor East Liverpool Dr. Craig!